Volunteers
Lots of people in the local community regularly pop into the garden to volunteer their time, do some gardening, become a trustee or just pop in for a chat.
We are always looking for new people to join in at the gardens, Fridays are a good day to come along to for drop in Gardening and and casual social events. For Yvonnes last Friday we had a lunch with a handful of the regular volunteers, clients and trustees. Sitting closest to the camera are Bozenna and Henny, two trustees who are also regular volunteers.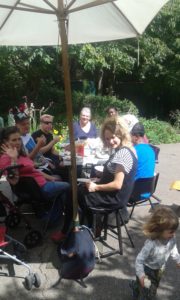 The Sunnyside Community
Some people come to Sunnyside once for a one off day of volunteering but most people come back… Ron has been coming to Sunnyside for over 20 years, here he is with Denise who supports him in the garden.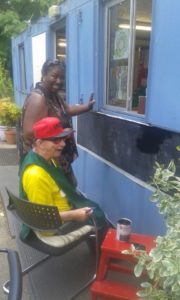 Ron loves painting and gardening and has done lots and lots of it here at Sunnyside over the years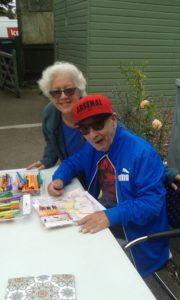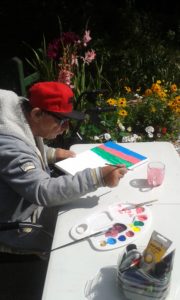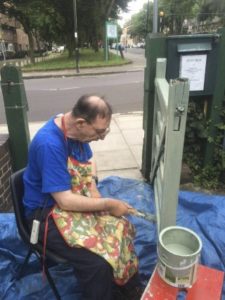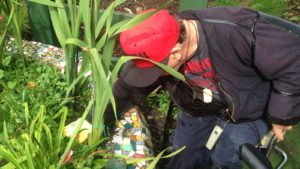 Ian is also one of our regular clients and he is tackling a knitting loop: we use arts and crafts when the weather keeps us indoors.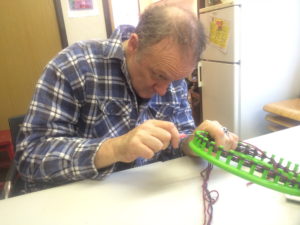 Ian loves to paint, and here are two of his pictures inspired by the garden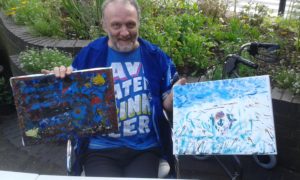 Here is Denise with Ian and Jonathon another regular volunteer doing some craft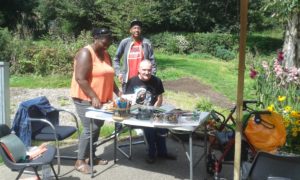 Alan is Sunnyside's most regular volunteer, he comes at least one day a week for work experience from college and he can help you find which ever tool you need in the garden as he is our Volunteer Grounds Manager… here is Alan with Peter a corporate volunteer cleaning the peace garden pond of duck weed.
And here is Alan putting up a fence around the wildlife pond in Sunnyside Gardens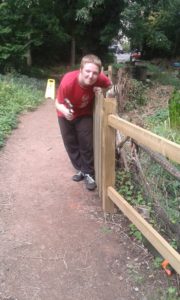 Students and international visitors
We also love to welcome students to come and do projects, volunteer and have some work experience.
We recently welcomed wonderful  students from Prague in the Czech Republic who were helping out at Sunnyside for three weeks and in that short time they became an important part of our little community. Nikola, Marketa and Aneta it was great to meet you and many thanks for all your hard work.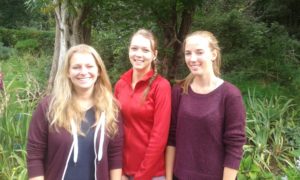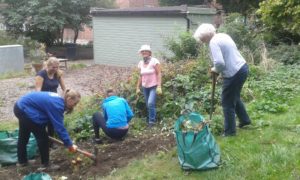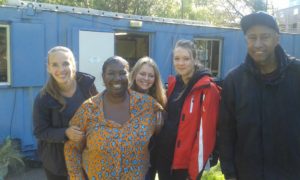 Historically we have also been very lucky with our student volunteers here are two students who came all the way from Munich in Germany a couple of years ago who are still remembered fondly and did a fantastic job helping to maintain the garden.