Regulars
Lots of people in the local community regularly pop into the garden to volunteer their time, do some gardening, become a trustee or just pop in for a chat.
We are always looking for new people to join in at the gardens, come along when we are open and say hello.  For special occasions we have a lovely lunch like this one with a handful of the regular volunteers, clients and trustees. Closest to us in the picture below are Bozenna a long term volunteer and Hennie.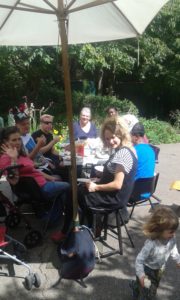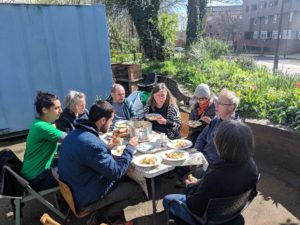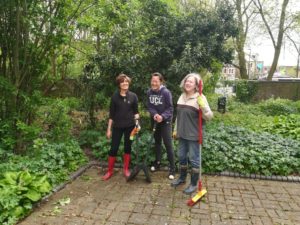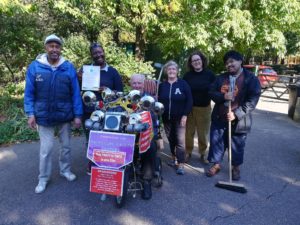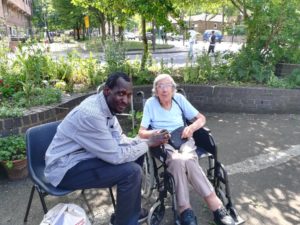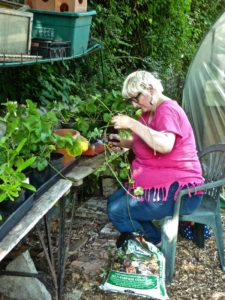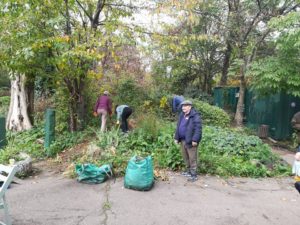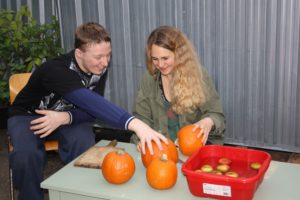 VOLUNTEERS ARE ALWAYS WELCOME WE HAVE DIFFERENT GROUPS ON DIFFERENT DAYS
MONDAY's – Green Gym 10.45am – 2.00pm – Get fit and work hard to make a big impact at Sunnyside
TUESDAY's – Cook and Grow 11.00am – 4.00pm – Have a gentle day making a healthy lunch and learning gardening skills
FRIDAYS – All day gardening  –  Come and help create the Morris Family Garden 10.00am -4.00pm
Remembering Ron Barrow
Ron Barrow was the longest standing member of the Sunnyside Community he died in April 2019. We all miss him very much. Feel free to come by and share your memories of him with us. The place will not be the same without the captain.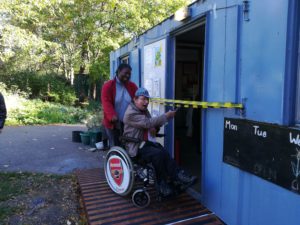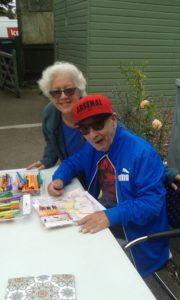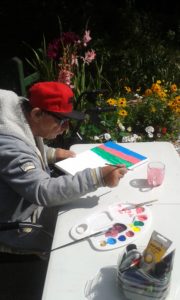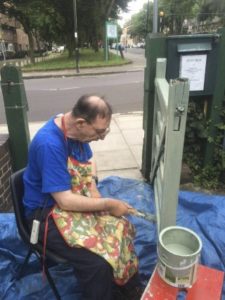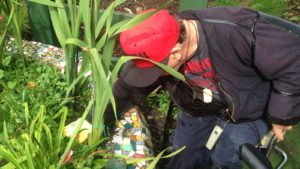 Regulars at the Sunnyside Community
Some people just pop into Sunnyside once and some people come for years. Ian is a long standing member of the Sunnyside Commuity.
Ian loves to paint, and here are two of his pictures inspired by the garden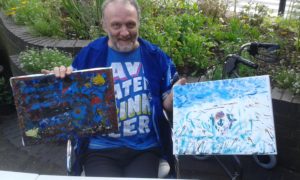 Here is Denise with Ian and Jonathon another regular volunteer doing some craft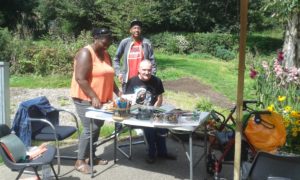 Alan has done more volunteering at Sunnyside than any other volunteer, as well as popping in regularly he came once a week on work experience from school. Here is Alan with Peter a corporate volunteer cleaning the peace garden pond of duck weed.
And here is Alan putting up a fence around the wildlife pond in Sunnyside Gardens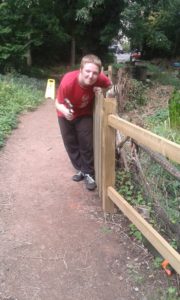 Students and international visitors
We also love to welcome students to come and do projects, volunteer and have some work experience.
We recently welcomed wonderful  students from Prague in the Czech Republic who were helping out at Sunnyside for three weeks and in that short time they became an important part of our little community. Nikola, Marketa and Aneta it was great to meet you and many thanks for all your hard work.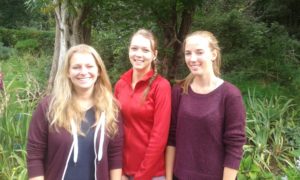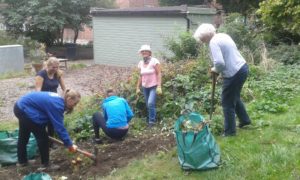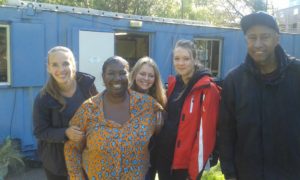 Historically we have also been very lucky with our student volunteers here are two students who came all the way from Munich in Germany a couple of years ago who are still remembered fondly and did a fantastic job helping to maintain the garden.